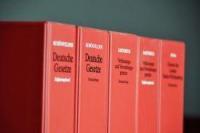 Steuerberatung Hattingen – Your Ideal Partner in All Areas of Business
Located directly on the Gelsenkirchener Hauptbahnhof, Steuerberatung Hattingen is your ideal partner in every aspect of your business.
Whether you are a small family business or a global player, we understand your needs as individual and will be there for you throughout the whole process.
Our team is made up of qualified and dedicated professionals with over 30 years experience in the field of tax law. Our focus is on advising you on your statutory and taxation obligations in all areas of business, from the initial audit to a comprehensive, restructuration-based consultation.
We are proud to be a member of the ETL Group, one of the largest tax and advisory firms in Germany. Our clients benefit from our highly qualified, experienced staff as well as the synergy of our members and partners.
The ETL Group has a long history of successful and sustainable business relationships. This has led to us being a preferred tax and accounting advisor to numerous businesses, both local and international.
For our customers, the most important aspect of our services is our individualized advice. Our clients can rest assured that our specialised team is always on hand to offer their assistance with the latest legal developments, regulations and procedures in the field of tax law.
As a result, our client's statutory and taxation obligations are always taken care of as efficiently as possible, whilst at the same time providing an accurate, reliable and bespoke service.
We have been able to maintain this level of quality through our excellent team of employees and by developing and maintaining an exemplary working culture. The underlying principle is to ensure that our team members are well trained and highly motivated.
Our staff is comprised of highly-qualified and dedicated specialists with over 30 years experience in the field of corporate taxation and accounting. Their knowledge and expertise enables them to offer our clients the best service possible.
Moreover, our extensive training programme and the high quality of our team ensure that our clients receive expert support in all aspects of their company.
Our team consists of highly skilled and experienced Chartered Accountants who have a wealth of experience in the fields of taxation, auditing and corporate finance. These professionals are based in our office in Hattingen and serve our clients all across the region.